Archive for February, 2011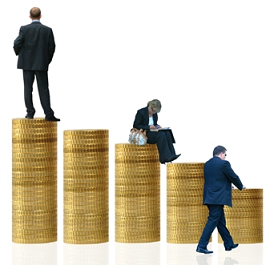 Rapid Growth in sales would appear a good thing, and in many respects it is, of course. It also brings pressures at many levels, however, and has a major potential downside. Business growth usually has negative cash flow implications, since growing businesses swallow cash. This fact is not always anticipated. A rapidly growing business needs to have access to more and more working capital, simply to fund the growing cash flow time-lag, to be able pay the ever increasing amounts of liabilities to suppliers before the higher revenues flow back in its back account. If growth continues, this problem is not resolved even when cash does flow back in again, of course, since ever-growing cash outflows to suppliers will always precede subsequent funds inflows from customers.
Businesses can and do run out of cash if they expand more quickly than predicted. Salvation lies in preparing carefully considered cash flow forecasts, so that this trap for the unwary can be foreseen, and planned for by arranging additional bank overdraft facilities, for example. Another possibility is to obtain one of the many forms of invoice discounting facility that are available, essentially funding methods by which a third party finance company purchases a business's sales invoices at a discount, thus making funds available more quickly to that business but at the expense of the finance charge that the discount represents. Careful forward planning is needed to accommodate rapid sales growth. There exists a big risk that fast growing businesses start to overtrade, which means that their available working capital becomes insufficient to cope with the greater demands placed upon it as amounts as liquid funds held up in the cash flow time-lag increase.
The forecasts contained in your business plan represent the direct translation of its narrative script into your expectations for financial performance. In strong business plans these two elements dovetail into each other. The good news is that by the time you start to think about the numbers in detail, you should have analyzed your business well enough to translate it into numbers that have credibility. Analyze your customer's needs, and review your business's offerings in the context of rivals and substitutes, and obtain an overall potential for sustained profit. To show the importance of the financial section of your business plan, after reading your executive summary most informed readers will turn to the financial forecasts. They will need a minute or two or scan those and learn a great deal about the quality of the business proposition, and about the competence of the people behind it.
The reasoning for this is that the written word provides flexibility of construction and many fine shades of meaning, but numbers demand precision. If you seek outside funding, the financial forecasts are fundamental providing interested parties with the ability to assess the financial potential of your business idea. When they are credible and well founded, however, the financial projections for your business will communicate the good news quickly to the potential investors. They will see the potential returns that your business promises, and understand the funding resources that it needs. The finance section itself of your plan should present just the headlines, the key financial messages. Most people comprehend visual images more easily than they understand words and numbers. Be aware of this when summarizing key financial information, for graphs and bar charts and the use of color can play a major supporting role in helping you to communicate the figures clearly.
Your business plan needs to include forecasts of the movements of liquid funds in and out of your business. The purpose of these business cash flow forecasts is to reveal anticipated peaks and troughs in the balance of liquid funds, and therefore to allow management to put sufficient funding resources into place, including short term borrowings such as bank overdraft facilities to be available to cope with the times of greatest outflow. As a business grows so will its cash flows vary? In terms of your business plan, this is the point at which your business's overall funding requirement must be addressed. If your business needs external finance, then investors and bankers will need convincing that you have forecast its cash needs as accurately as possible. The range of questions to consider is as follows:
. How much funding in total does the business need?
. When is it needed?
. How much is needed in the form of long-term finance, locked into the business to provide equipment and infrastructure and development needs, and how much is needed as working capital to fund day-to-day trading activities?
. Is the long term need such that it suits a long term borrowing structure or does it require share capital or a mixture of both? Where outside investors are involved they will need to see the size of the potential returns available to them, and over what timescale these are expected to arise.
. What so called milestones are available in the business's progress, to be used as markers the achievement of which allows funding arranged in principle to be drawn down into the business's bank account?
The financial forecasts contained within your business plan provide the information that allows these questions to be answered.
For most businesses, then, there exists a delay between funds flowing out and then flowing back in again. A few industries are exceptions to this rule, a clearly visible one being retail stores and supermarkets. The cash flow cycle for a business, the movement of bank balances from day to day, is paralleled, in many ways, by the movement of waves on a beach. Cash in a business is sometimes referred to as liquid funds, and it is possible to liken business cash movements as waves of funds. Imagine yourself at a position close to the water's edge, a point representing the start of business activity.
At that point, water is flowing away from you, in the same way that liquid funds move out of a business as it pays its suppliers. The next incoming wave brings more water to the beach, reflecting the funds flow into a business in due course as customers pay their debts. Funds will then flow back out again as more suppliers are paid. As with waves on a beach, at any given time of the tide will be coming in, or going out. In either event, the size of the incoming waves varies; sometimes the next wave will bring in less water than previously flowed out, sometimes more. Usually, outflows and inflows happen at the same time in fact, with incoming waves covering water flowing back out. A business will sometimes both receive cash from customers and pay out cash to its suppliers on the same day. In overall terms, over time, the tide of cash flow for a profitable business will be a rising one, the net situation being one where more cash flows in than flows out.
As explained earlier, the point at which a customer actually pays for a product or service simply not relevant in profit and loss account terms. The position is that revenue and costs are recognized, accounted for, as soon as a legally binding obligation to pay comes in to existence. In complete contrast, cash flow statements show a business financial position based upon when liquid funds, which are generally referred to as "cash" actually move. Businesses fail financially when they run out of cash to pay the bills. Most people associate insolvency with losses, but running out of cash to pay suppliers can happen even when trading is profitable.
For most businesses the normal situation is one of time-lag, where funds flow to pay suppliers before funds flow back in again from customers. The major exception to this is for retail businesses, where customers generally pay as they take away the goods or receive the service. For most businesses however, receipts from customers occurs after a delay, with payments to suppliers failing due in advance of that. Even using the best debt collection techniques, the period of that time-lag can be an uncertain and rather dangerous place. Preparing a forecast cash flow statement for your business updating it regularly in the light of events, and measuring actual performance against it together comprise the most important safeguards for ensuring the financial health of your business.
A reduction in sales price will require a higher increase in sales volumes. In a price war situation where demand is essentially constant and therefore overall sales volumes cannot increase, the protagonists are simply reducing the overall amount of profit available to them. Businesses that use reduced prices alone to shore up flagging demand often find themselves in a downward spiral as they chase customers. There is rarely any certainty that sales will be stimulated enough to rise the extra volume needed to compensate, but customers' fundamental expectations may change.
They may begin to expect ever lower prices. Consciously or unconsciously customers perceive that the balance of power is shifting from the sellers towards them as buyers. Customers find that they can retain more of the overall profit by negotiating shrewdly and quite possible by playing one supplier off against the next, making levels of price-cutting even more sever. The buyer's gains matches sellers' losses. If management is able to use marketing techniques to different the business's offering, effectively looking customers, so that the actual fall in the volume of sales is less than that, them more profit will be the result. A reduction is price will definitely make lot of improvements in sales. Most of the business people are using this strategy to increase their sales volumes. Buyers also feel happy to buy products at low price. So make use of this marketing strategy and enhance your business.
Exactly the same principle applies when recognizing the existence of business costs as having been incurred. Costs are recognized, and a financial liability to suppliers is recorded, as soon as there comes in to existence a legally binding obligation to make payment to the supplier. The accounting treatment for both income and costs follows the same underlying principle. Both sales revenues, often called turnover in the jargon, and costs are recorded as soon as a legally binding obligation to pay come into existence.
It does not matter at all from a profit and loss account viewpoint when payment these are earned, and recording liabilities for business for costs as these are incurred. In summary a profit and loss account measures whether a business has made a profit or not by setting costs incurred against revenues are recorded when legally binding obligations to pay come into existence, not when the payments happen. There is indeed another business financial statement that concerns itself with the timing of movements of funds in and out of a business, when liabilities to suppliers have to be paid, and when customers are expected to pay their debts. That is known as the cash flow statement.
The accounting statement that people most readily understand is the profit and loss account. It is an account, a reckoning up, of whether a business, or an individual departmental unit within a larger business, has made a profit or not. The very straightforward logic is that if all revenues for a given period are added up, that provides the total income earned figure for that period. A parallel totaling process carried out for costs, the various items of expenditure incurred during the same period, gives the total costs figure. Setting the first total against the second is the essence of a business profit and loss account. If total revenues exceed total costs then a profit has been achieved, if costs exceed revenue then a loss has been incurred.
Understanding what a profit and loss is, and what it shows, is not complicated therefore. The issue that often confuses people however, is the question of timing. At what point is it correct for a business to claim to have generated a sale, to have generated revenue. When the customer pays the invoice? When the business originally raised it? The answer is that accounting practice follows the legal position, and if you remember this point then the principle should stick in your mind. Quite simply, a business will recognize a sale as having happened, record it as revenue earned and take credit for it, once there exists a legally blinding obligation upon the customer to pay. That point is generally the point at which the product or service has been successfully delivered, or otherwise provided to the customer's satisfaction.
Once you have mastered the basic business financial jargon, you can start using the data provided by business accounts to supply useful management information. The next point has previously been mentioned, but it so important that it now receives a second airing. Having access to an accountant who has better knowledge about accounts is a very valuable resource indeed, and it is worth investing time to locate one. Ask around for recommendations, and do not necessarily rely on impressively glossy brochures or a comprehensive website, for such things can easily be purchased and simply re-branded with a given firm's name.
The Three main financial statements
The principal accounting statements are these:
. The profit and loss account, which shows the amount of profit or loss that a business has produced, or expectations of what is forecast to produce, for a stated period.
. The balance sheet, which shows the business assets and its liabilities as they exist at a fixed point. How much are funds in the bank, for example, and how much is owed to the business by its debtors, anyone who owes it money.
. The cash flow forecast, which slows expectations of when cash funds will be received by a business, and when it will be paid out, measured against a timeline.
Tips about Recruiting Accountant
Meet the individual who would be your day-to-day contact, check that the personal chemistry works, and check whether they can explain financial matters in ways that you understand. A good test here is practical one: ask them to explain how your business's accounts would show things if a computer were purchases, for example.
A good starting place is to dispel a few common misunderstanding, to explain what accounts can do and what they cannot. First, cannot only measure those aspects of business activities that can be measured readily. Conventional accounts do not measure the value of all business assets, for example such as the dedication, loyalty and general levels of morale of employees. In fact, for people and knowledge based businesses it can readily be argued that the largest asset of all workforces is not valued at all in conventional accounting terms. Another gap may be that environmental costs, particularly longer term ones, are not brought into the reckoning by conventional business accounts. The problems lies not so much with the ability of finance and accounts to handle, for example, a measure of morale, it lies with an inability to obtain that measurement in a way that would stand up to objective scrutiny.
In general, accounts measure only those things that can be measured in financial terms, and things that can be measured on the short to medium term time horizon. Thus, although it is rather difficult to place an objective valuation upon the level of employee knowledge, or skill, or loyalty within a business, in situations where such a measure is readily available then accounts will accommodate it easily. Football club accounts do it as a matter of course when it comes to the costs of signing players, for example. Business accounts have a few limitations at the edges then, but at the core of accounting expertise and accounting practice there exist techniques that are extremely useful to support business decision making. Accounting and financial techniques allow management to ensure the financial health and well being of their businesses, and determine what funding resources are needed, and when. They enable management to monitor progress against targets, to measure and improve business efficiency, and to optimize utilization of the limited resources available.